Regular price
Was
£97.85
Sale price

£74.95
Unit price
per
Sale
Out of Stock
Optimise fat burning 24/7 with the Day and Night Shred Stack.
Description

If you want to take your fat loss game to a whole new level while increasing your energy, improving your sleep and optimising your recovery, the Day & Night Fat Loss Stack is what you need!
Directions

OxyShred




For optimum results take twice daily - Mix 1 scoop with 10 ounces (295 ml) of chilled water first thing in the morning on an empty stomach, and on training days, consume 15 minutes prior to exercise.


Avoid eating or consuming a protein shake within 20 minutes after consumption for maximum absorption.

Oxysleep Collagen



Add 1 scoop (11.5g) to 240ml (8oz) of hot water or your choice of milk, whisk for 30 seconds or until ingredients are well combined

Do not consumber more than 1 serving a day.



FAQs

SUMMARY - OXYSHRED AND FAT BURNING




In essence, you have 2 specific types of fat stores - subcutaneous fat, meaning it sits just below your skin; and visceral fat, which sits around your organs to protect them.


Within these fat stores, you have two different types of adipose (fat) tissue; brown and white fat - long story short, brown fat keeps you warm when you're cold and white fat is the result of excess calories that are stored to be used as energy at a later time.



OxyShred targets your subcutaneous fat stores, leaving your visceral fat stores untouched as these are crucial for safety and health. By targeting your subcutaneous fat stores, OxyShred targets your white fat cells resulting in an increase in thermogenesis and lipolysis.



It does this by working with your mitochondria (core of muscle fibre cells) to help metabolize fat in your body, converting fat cells into energy. 



The combination of ingredients also helps to slow down calorie absorption, lower insulin levels and kick start your metabolism for the day. Decreasing insulin levels allows your body to reduce fat storage and calorie absorption, and to curb those evil sugar cravings.


Finally, the stress hormone (and enemy of weight loss) Cortisol is kept under control by the natural boost in energy and immunity boosting ingredients, helping you to stay focused throughout the day.



WHAT SEPARATES OXYSHRED FROM THE OTHERS?


- Optimal dosage of ingredients that work in synergy (instead of huge doses of a single ingredient)

- Uses active sections of ingredient extracts

- Chromium for blood sugar balance

- Not over-caffeinated

- The purpose of a thermogenic is separate to a pre-workout...you don't want to be sitting there so full of energy, sweating and getting jittery



IS EHPLABS OXYSHRED VEGAN?


While not certified vegan, OxyShred contains no animal-based ingredients. According to vegan certification regulations, none of the EHPlabs products are vegan as they are manufactured in a facility that also processes our whey protein.


IsoPept Zero, OxyWhey, Skin Tight and Skin Firming contain animal-based ingredients and are not vegan.



WILL I DEVELOP A TOLERANCE TOWARDS OXYSHRED?


OxyShred contains caffeine, and for products containing caffeine you should take a 1 week break after consuming the product for a consecutive 4 week period. With OxyShred, we recommend taking a 1 week break each time you finish a tub.



DO I NEED TO TAKE A BREAK FROM USING EHPLABS SUPPLEMENTS?


All EHPlabs products are researched, formulated and carefully manufactured to ensure that they deliver results.


Although there is no rule about when you should start and stop taking supplements, you need to listen to your body. If you feel like you need to take a break, then you should take a rest from using any nutritional supplement products for 3 consecutive days and drink plenty of water to flush out your system.


With OxyShred, we recommend taking a break each time you finish a tub.

WHAT EHPLABS PRODUCTS CAN I MIX TOGETHER WITH OXYSHRED FOR CARDIO?


As suggested in the Directions, Acetyl L-Carnitine is best taken with OxyShred to maximize the breakdown of fat cells.


If you're doing fasted (empty stomach) cardio, the ideal energy and metabolism booster and recovery cocktail is to mix 1 scoop of Beyond BCAA with 1 scoop of OxyShred and 2 scoops of Acetyl L-Carnitine with 20 oz (600ml) of chilled water.


It's fun experimenting with the delicious fruity flavor combinations.

WHAT IS THE BEST FLAVOR FOR OXYSHRED?


If you don't have a sweet tooth, pink grapefruit flavor is fantastic as it has a subtle fresh citrus flavor. Wild Melon and Kiwi Strawberry are well balanced and on the sweeter fruitier side, and Guava is a smooth natural tropical flavor.

Our newest flavors are Passionfruit and Mango, both of which have been very popular. All the OxyShred flavors are delicious, but it really depends on your taste preference.

CAN I USE OXYSHRED AS PRE-WORKOUT?


Yes! OxyShred will give you a natural boost of energy and put you in a positive and focused mindframe to conquer your workout. Whether you are a beginner or a seasoned pre-workout consumer, you'll love the natural positive effects of OxyShred during your workout.

CAN I STACK OXYSHRED WITH OTHER PRODUCTS?


Oxyshred can be stacked with Acetyl L-Carnitine to increase its already potent ultra thermogenic ability. OxyShred can also be stacked with our non-stimulant based pre-workout PSI.


PSI contains optimally dosed ingredients that have been extensively studied and proven to synergistically promote vasodilation, enhance nutrient and oxygen delivery to working muscle, and increase cell hydration for incredible pumps while also helping to improve mental focus.


Combining OxyShred and PSI pre-workout will give you the energy and focus you need to push through your workout while maximizing fat loss.

SWEETENERS IN OXYSHRED


OxyShred uses the sweetener Sucralose, as it's been FDA-approved for 20 years, and shown to be safe and stable. Sucralose has been extensively studied and more than 110 safety studies were reviewed by FDA in approving the use of sucralose as a general purpose sweetener for food.



NEUROCOGNITIVE FUNCTIONS


The combination of L-Tyrosine, Taurine have been shown in EHPlabs studies to provide a mood enhancing effect due to their role with dopamine and antagonist effects on serotonin.


By also including Caffeine and L-Theanine, this helps to provide optimal central nervous system and adrenal gland stimulation to trigger a positive homeostatic energy release, which can also help improve cognitive ability.

WHY ARE THERE NO JITTERS?


Unlike some other thermogenics on the market, you shouldn't get jitters from OxyShred if used as directed as it's not over-caffeinated.


The R&D team at EHPlabs has focused on the optimal synergistic dose of ingredients within OxyShred to provide the best effect, so that they interact and complement each other, instead of pumping it full of stimulants - there is no need to add huge amounts of caffeine and other stimulants to make you itchy - this is the purpose of a pre-workout like RP Max.


The caffeine level in OxyShred is slightly higher than a strong cup of coffee.




FIGHTING THE CRAVINGS - MORE ON THIS AND WHY?


OxyShred helps to reduce cravings by a couple of different methods;

1) it helps to suppress your appetite and enhance your mood, which is a large contributor to cravings.





2) it helps to promote blood sugar balance by the addition of chromium which has an effect on regulation of insulin and blood glucose control. Chromium is lacking in most people's diets, and chromium levels decrease with age - Chromium picolinate is the most efficacious form of chromium supplementation





3) It boosts your metabolism so that you have clean, long-lasting energy from your fat stores, which again helps to reduce cravings as you're not low on energy

WHAT IS THE SCIENTIFIC ACTION FOR FAT MOBILISATION FUNCTION?


The scientific action behind fat mobilisation and fat utilisation is two-fold;



1) you have to activate the fat from storage





2) you have to then take it from storage and transport into the mitochondria to be burned off as energy.

WHAT DO YOU MEAN BY THERMOGENIC?


Thermogenic by definition just means to produce heat - however, in terms of a supplement this means increasing heat through an increased metabolic rate, which results in increased amount of fat burning.

By keeping your metabolism elevated for periods of time, this results in more production of heat, and therefore more burning of fat - this means you have more clean natural long-lasting energy from your body so that you have energy throughout the day, even while on a calorie-restricted diet.




ASIDE FROM TRANSPORTING FATTY FREE ACIDS, WHAT ELSE DOES ACETYL L-CARNITINE DO?




Acetyl L-Carnitine is well known for producing energy, improving brain performance, decreasing stress and depression, and slowing the effects of ageing related diseases including dementia.




WHAT SHOULD I FEEL WHEN I CONSUME ACETYL L-CARNITINE?




EHPlabs Acetyl L-Carnitine is pharmaceutical grade and contains no additional stimulants. You will not feel any major high stim effects, however, Acetyl L-Carnitine will work alongside your natural biological processes to utilize fat cells to increase energy (ATP) production and will lead to increased sweating during training. This indicates that your metabolism is speeding up and you're burning more calories during your training.


WHAT DOES IT TASTE LIKE?




Acetyl L-Carnitine has a slightly tart/sour taste, but it is subtle enough that you will barely notice the taste when you add it to OxyShred or Beyond BCAA.




WHAT IS THE DIFFERENCE BETWEEN OXYSLEEP AND OXYREM?




Both products have been formulated to assist with sleep, recovery and fat burning, and there are a couple of key differences between them. OxyRem is capsule-based, while OxySleep is powder-based and comes in 2 separate flavors that can be used by either gender.

The key difference in ingredients is that OxyRem utilises Melatonin, while OxySleep uses Lemon Balm and Valerian Root Extract to help activate deep sleep. Both OxyRem and OxySleep work on various metabolic, endocrine (hormone system) and neural pathways in the body, designed to help you sleep better, recover faster, feel more energy and burn fat.
Ingredients

| | | |
| --- | --- | --- |
| OxyShred (60 serves) | Amount / serving | % DV |
| Calories | 5 | |
| Total Carbohydrate | 1.0 g | <1% |
| Dietary Fiber | 0.2 g | 4%* |
| Vitamin C | 173 mg | 193% |
| Thiamin | 0.56 mg | 46% |
| Riboflavin | 0.78 mg | 60% |
| Niacin | 20 mg | 123% |
| Vitamin B6 | 0.98 mg | 58% |
| Vitamin B12 | 0.9 mcg | 38% |
| Pantothenic Acid | 1.7 mg | 34% |
| Chromium Picolinate | 10 mcg | 3% |

* Percent daily value are based on a 2,000 calorie diet.

FULL BREAKDOWN OF INGREDIENTS




FAT BURNING MATRIX (2003 MG)




Acetyl L-Carnitine HCl, Garcinia Cambogia Fruit Extract (60% Hydroxycitric Acid), Conjugated Linoleic Acid (CLA), Grapefruit Seed Extract 4:1, Raspberry Ketones (From Raspberry Fruit Extract), Mangifera Indica Seed Extract, Bitter Orange Fruit Extract, Green Coffee Bean Extract (50% Chlorogenic Acid), Olive Leaf Extract (10% Oleuropein), Guggul Extract Powder, Chromium Picolinate



IMMUNITY BOOSTER & PREBIOTIC COMPLEX (625 MG)




L-Glutamine, Inulin Fiber, Vitamin C (Ascorbic Acid)



MOOD ENHANCER MATRIX (851 MG)




L-Tyrosine, Taurine, Caffeine Anhydrous, Huperzia Serrata Whole Herb Extract (Huperzine A)



FULL B VITAMIN SPECTRUM (24.59 MG)




Niacinamide (Niacin), Calcium Pantothenate (Pantothenic Acid), Pyridoxine HCl (Vitamin B6), Riboflavin (Vitamin B2), Thiamine Mononitrate (Vitamin B1), Cyanocobalamin (Vitamin B12)



FLAVOR-SPECIFIC INGREDIENTS

Guava Paradise: Natural Flavor, Citric Acid, Sucralose, Silicon Dioxide, Calcium Silicate, Beet & Carrot Juice Powder (Color), Sodium Chloride, Turmeric (Color)


Passionfruit: Natural Flavor, Sucralose, DL-Malic Acid, Silicon Dioxide, Citric Acid, Calcium Silicate, Turmeric (Color)


Wild Melon: Natural Flavor, Silicon Dioxide, Calcium Silicate, Sucralose, DL-Malic Acid, Turmeric (Color), Sodium Chloride, Citric Acid, Fruit & Vegetable Juice Powder (Color)


Pink Grapefruit: Natural Flavor, Citric Acid, Sucralose, DL-Malic Acid, Silicon Dioxide, Calcium Silicate, Tartaric Acid, Sodium Chloride, Beet Juice Powder (Color)


Kiwi Strawberry: Natural Flavor, Citric Acid, Sucralose, Silicon Dioxide, Calcium Silicate, Spirulina Extract (Color), Turmeric (Color)


Mango: Natural Flavor, Citric Acid, Sucralose, Silicon Dioxide, Calcium Silicate, DL-Malic Acid, Beet & Carrot Juice Powder (Color), Turmeric (Color)

Acetyl L-Carnitine
Servings per package - 100
Serving Size - 1g (1 Scoop)

| | | |
| --- | --- | --- |
| Average Quantity | Per 1g Serve | Per 100ml |
| Energy | Less than 40Kj | Less than 40Kj |
| Protein | Less than 1g | Less than 1g |
| Fat, Total | 0g | 0g |
| - Saturated | 0g | 0g |
| Carbohydrate | 0g | 0g |
| - Sugars | 0g | 0g |
| Sodium | 0 mg | 0 mg |
| Acetyl L-Carnitine | 1g | 1g |




Ingredients - 100% Pharmaceutical Grade Acetyl L-Carnitine
View full details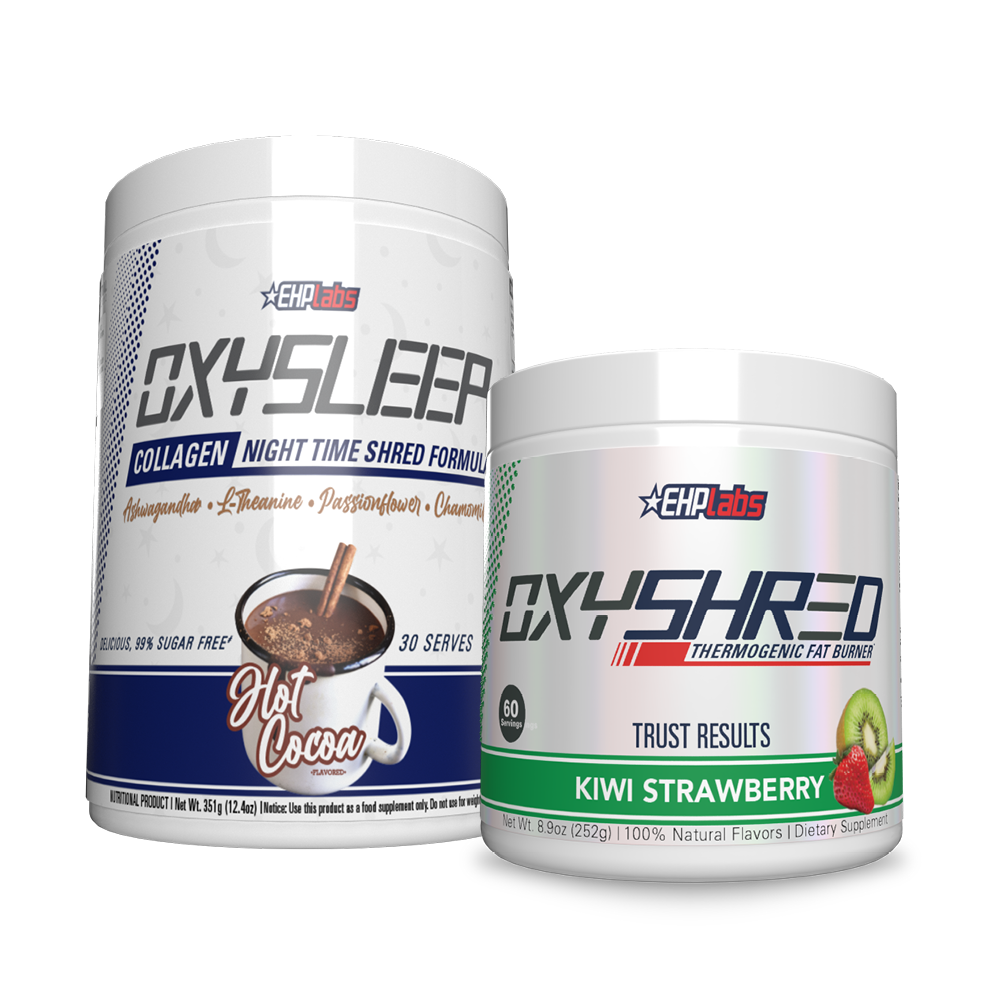 Oxyshred + Oxysleep Collagen Bundle
Regular price
Was
£97.85
Sale price

£74.95
Unit price
per
Sale
Out of Stock
Shipping, Returns & Payment Info
Shipping Information

Shipping costs:

We offer FREE domestic shipping within the UK for orders over £100. For orders under £100, shipping starts at just £6.95.

Shipping throughout Europe starts from £9.95.

For a detailed breakdown of our shipping rates, please refer to our shipping policy page.

nb. The shipping fee does not include import duties or taxes that are levied by the government of the recipient country. These fees are billed directly to the receiver of the shipment. 

Order processing time:

Once we receive your order, our team will promptly pick, pack, and process it within 48 business hours*. You'll receive an email with your tracking details as soon as your order has been processed, so you can stay updated on its delivery.

Estimated delivery time:

Delivery times vary depending on your location. Here are some estimated delivery times for domestic orders within the UK.

Standard Post: 2-8 business days


Delivery to Europe is approximately 5-14 business days.

For a detailed breakdown of our delivery estimates, please refer to our shipping policy page.

With our affordable shipping rates and speedy processing times, you can expect your EHPlabs order to arrive at your doorstep in no time.
Exchanges & Returns

We're here to help make sure you're completely satisfied with your purchase from EHPlabs!

If for any reason you receive a damaged or incorrect product, simply let us know within 7 days of delivery and we'll be happy to replace it or refund your purchase price.You can start a return by emailing us at contact@ehplabs.com.

If you receive a defective or damaged item, don't worry! Just contact us right away and we'll work with you to evaluate the issue and make things right. Please take a photo of the issue so we can quickly resolve the problem.

While we're unable to accept returns on certain items, such as opened supplements, clearance items, loyalty points, and gift cards, we're always happy to help with any questions or concerns you have about your specific order.

And don't worry, we're always here to help with exchanges as well! Just return the original item and make a separate purchase for the new one.

We'll be sure to notify you once we receive and inspect your return. If approved, we'll refund your original payment method within 10 business days of receipt. If you have any questions about the process and if it's been more than 15 business days since your return was approved, please don't hesitate to contact us at contact@ehplabs.com.

We're always here to help.
Payment

Shopping has never been easier with our flexible payment options.

Choose from our range of convenient payment methods, including Buy Now, Pay Later services such as ClearPay & Klarna.

If you prefer to pay on the spot, we also accept all major credit cards, including AMEX, Mastercard, and VISA. With so many options to choose from, you can shop with confidence and convenience.
OxyShred
Achieve your goals with this scientifically researched shredding formula containing proven ingredients that help promote fat loss, boost immunity and provide a natural energy boost. Oxyshred Ultra Concentration comes in delicious flavours for all tastes, and ticks all the boxes for those wanting to shred and reach their full potential!
Read more
Buy Now, Pay Later Options
4 Interest-free Payments
Pay every 2 weeks
4 Interest-free Payments
Pay every 2 weeks