Regular price
Was
Sale price

£34.95
Unit price
per
Out of Stock
CREA-8, a pure creatine monohydrate, is a combination of three different amino acids: glycine, arginine and methionine.
How do subscriptions work?

Never have to think about reordering

Stay stocked with your favorite products

Edit your subscription anytime

Edit products, delivery schedule and more

Cancel when you want to

Easily cancel, no questions asked
Description

CREA-8 is one of the most heavily researched supplements, perfect for anyone wanting to improve their strength, increase lean muscle mass and optimise recovery. Be empowered, reach your goals and take your fitness to the next level with CREA-8!

Directions

Consume 5 grams of CREA-8 with 8 Ounces (240 ml) of water or mix with OxyWhey Lean Protein post-workout protein.

During loading phase (1 week), consume 10 grams of CREA-8 pre and post workout with 8 ounces (240 ml) water.
FAQs

WHEN'S THE BEST TIME TO TAKE CREA-8?

There is no scientific research that provides evidence for optimal creatine monohydrate consumption timing. However, it is important to ensure that you consistently consume

CREA-8 on a daily basis to ensure that your muscles are saturated with creatine monohydrate to promote cell volumization, muscle hydration and increased endurance.




WILL CREA-8 CAUSE WATER RETENTION?




The natural biological response by the body from consuming creatine monohydrate is to retain water in the muscle cells. Excessive water retention and bloating is a side effect of poor quality creatine monohydrate. CREA-8 is the best quality German grade creatine monohydrate and will not lead to excessive water retention. However, if you are competing in bodybuilding/fitness show or you want to remain extra dry in appearance (dehydrated), we recommend to hold off using CREA-8.




I HEARD THAT CREATINE IS A CHEMICAL - IS CREA-8 SAFE TO CONSUME?




Creatine monohydrate is a safe supplement that has been used in fitness and bodybuilding for decades. It is a combination of three different amino acids: glycine, arginine and methionine. Amino acids are the building blocks of proteins. Scientific studies suggest that creatine monohydrate increases fat free mass, anaerobic strength and power.




References






Balsom PD, Soderlund K, Sjodin B, Ekblom B. Skeletal muscle metabolism during short duration high-intensity exercise: influence of creatine supplementation. Acta Physiol Scand. 1995 [cited 2022 January 10]l;154(3):303-10. DOI: 10.1111/j.1748-1716.1995.tb09914.x. PMID: 7572228.






Hummer E, Suprak DN, Buddhadev HH. Creatine electrolyte supplement improves anaerobic power and strength: a randomized double-blind control study. J Int Soc Sports Nutr. 2019 [cited 2022 January 10];16(24). Available from: https://doi.org/10.1186/s12970-019-0291-x




Nissen SL, Sharp RL. Effect of dietary supplements on lean mass and strength gains with resistance exercise: a meta-analysis. MedGenMed [Internet]. 2003 [cited 2022 January 10] ;94(2):651-9. DOI: 10.1152/japplphysiol.00755.2002.





Kreider RB, Kalman DS, Antonio J, Ziegenfuss TN, Wildman R, Collins R, Candow DG, Kleiner, SM, Almada AL, Lopez HL. International Society of Sports Nutrition position stand: safety and efficacy of creatine supplementation in exercise, sport, and medicine. Journal of the International Society of Sports Nutrition. 2017 [cited 2022 January 10]; 14(18). Available from: https://jissn.biomedcentral.com/articles/10.1186/s12970-017-0173-z#citeas





Rae C, Digney AL, McEwan SR, Bates TC. Oral creatine monohydrate supplementation improves brain performance: a double-blind, placebo-controlled, cross-over trial. Proc Biol Sci. 2003 [cited 2022 January 10];270(1529):2147-2150. DOI:10.1098/rspb.2003.2492
Ingredients

| | | |
| --- | --- | --- |
| Creatine Monohydrate (100 serves) | Amount / serving | % DV |
| Calories | 0 | |
| Total Fat | 0 | 0% |
| Cholesterol | 0 | 0% |
| Total Carbohydrates | 0 | 0% |
| Protein | 0 | 0% |
| Creatine Monohydrate | 5g | |

* Percent daily value are based on a 2,000 calorie diet.
View full details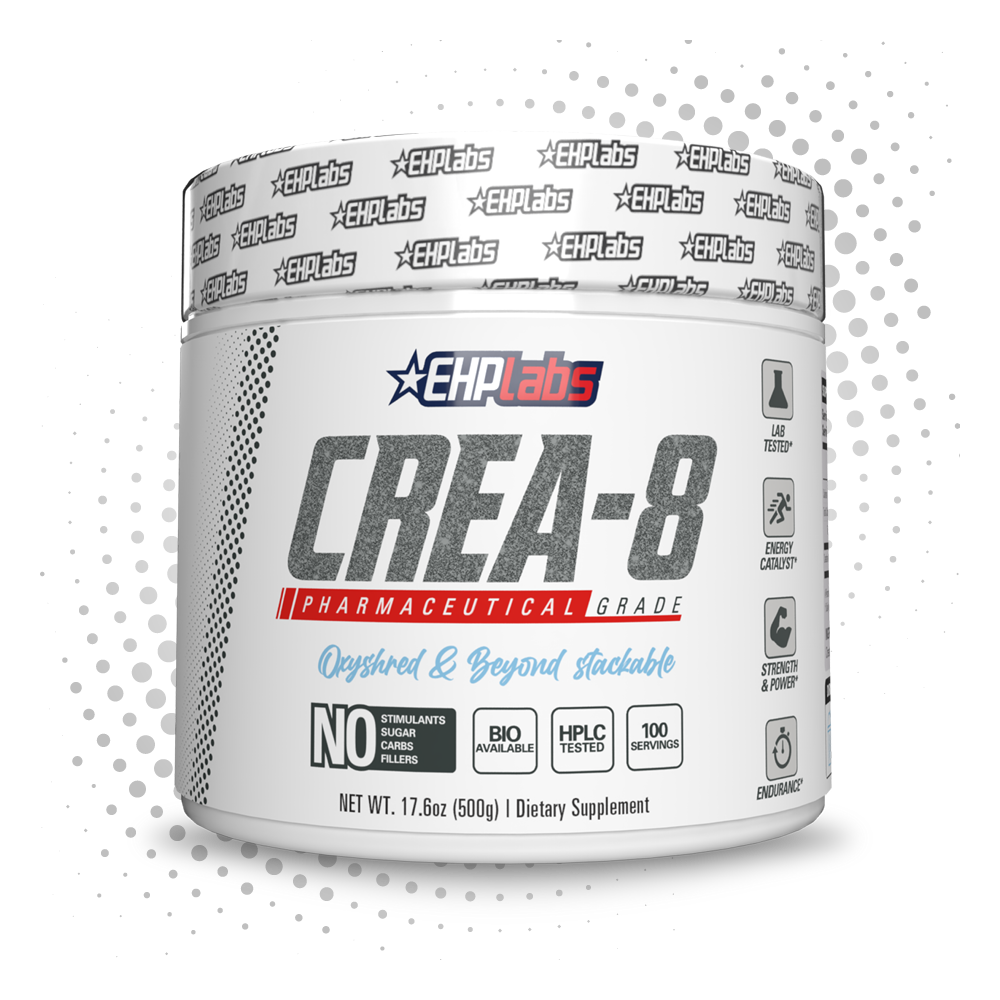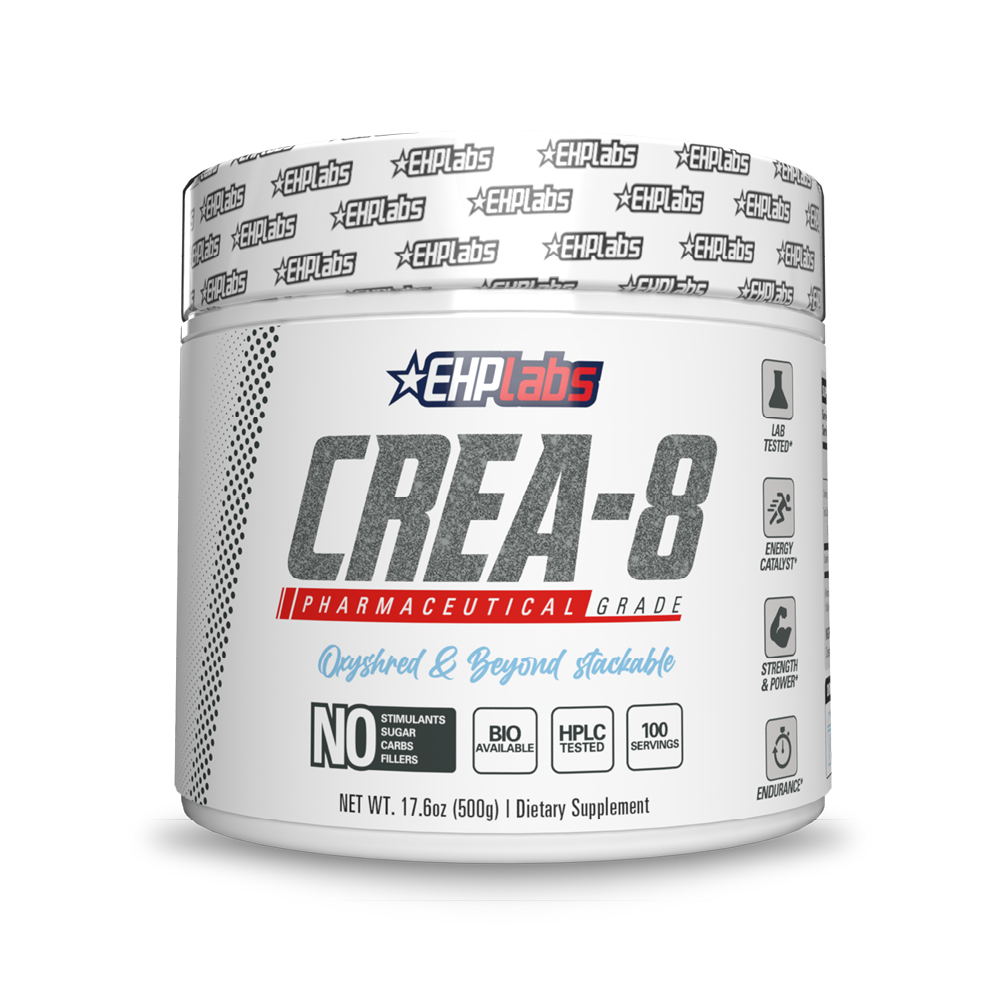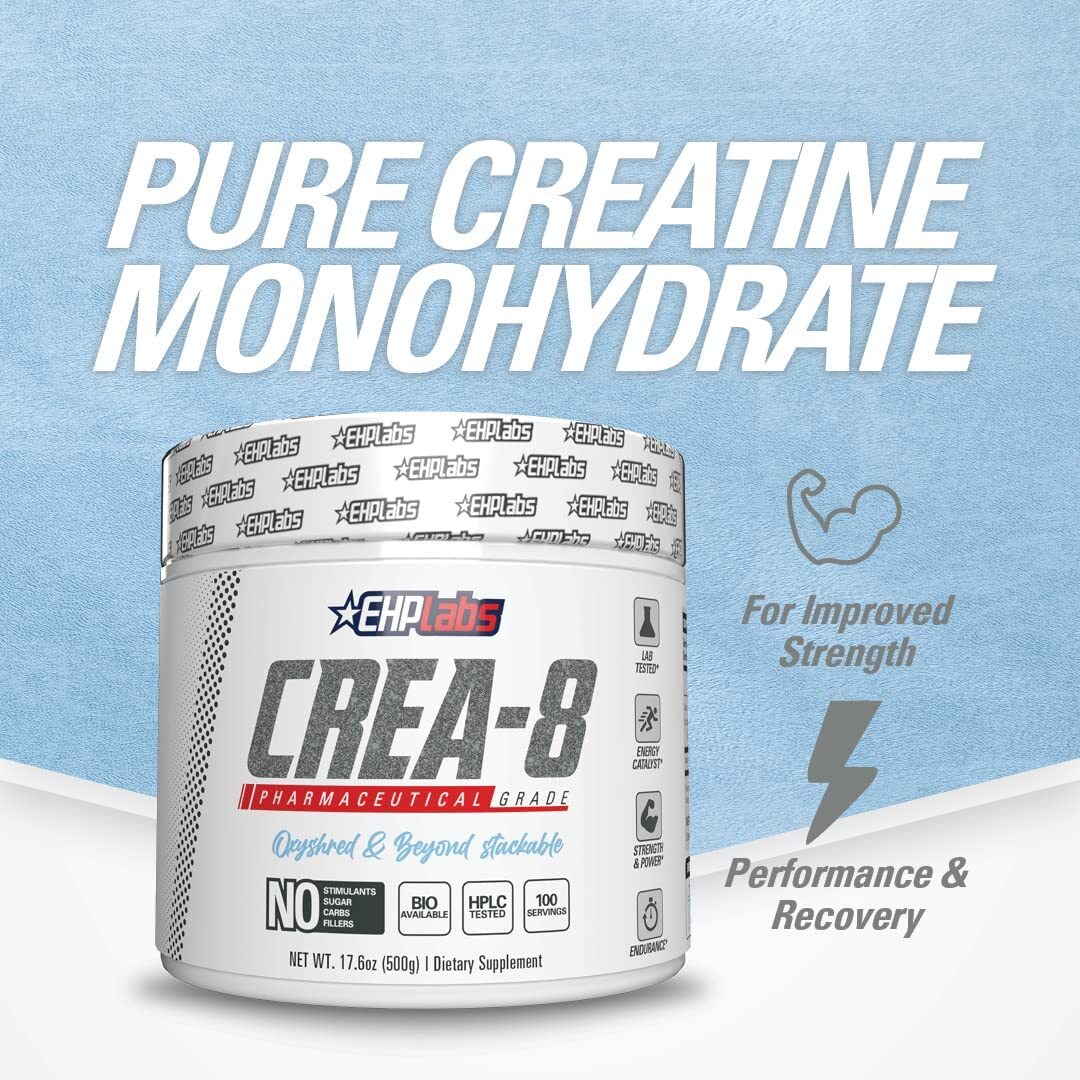 Crea-8 | Creatine Monohydrate
Regular price
Was
Sale price

£34.95
Unit price
per
Out of Stock
Shipping, Returns & Payment Info
Shipping Information

Shipping costs:

We offer FREE domestic shipping within the UK for orders over £100. For orders under £100, shipping starts at just £6.95.

Shipping throughout Europe starts from £9.95.

For a detailed breakdown of our shipping rates, please refer to our shipping policy page.

nb. The shipping fee does not include import duties or taxes that are levied by the government of the recipient country. These fees are billed directly to the receiver of the shipment. 

Order processing time:

Once we receive your order, our team will promptly pick, pack, and process it within 48 business hours*. You'll receive an email with your tracking details as soon as your order has been processed, so you can stay updated on its delivery.

Estimated delivery time:

Delivery times vary depending on your location. Here are some estimated delivery times for domestic orders within the UK.

Standard Post: 2-8 business days


Delivery to Europe is approximately 5-14 business days.

For a detailed breakdown of our delivery estimates, please refer to our shipping policy page.

With our affordable shipping rates and speedy processing times, you can expect your EHPlabs order to arrive at your doorstep in no time.
Exchanges & Returns

We're here to help make sure you're completely satisfied with your purchase from EHPlabs!

If for any reason you receive a damaged or incorrect product, simply let us know within 7 days of delivery and we'll be happy to replace it or refund your purchase price.You can start a return by emailing us at contact@ehplabs.com.

If you receive a defective or damaged item, don't worry! Just contact us right away and we'll work with you to evaluate the issue and make things right. Please take a photo of the issue so we can quickly resolve the problem.

While we're unable to accept returns on certain items, such as opened supplements, clearance items, loyalty points, and gift cards, we're always happy to help with any questions or concerns you have about your specific order.

And don't worry, we're always here to help with exchanges as well! Just return the original item and make a separate purchase for the new one.

We'll be sure to notify you once we receive and inspect your return. If approved, we'll refund your original payment method within 10 business days of receipt. If you have any questions about the process and if it's been more than 15 business days since your return was approved, please don't hesitate to contact us at contact@ehplabs.com.

We're always here to help.
Payment

Shopping has never been easier with our flexible payment options.

Choose from our range of convenient payment methods, including Buy Now, Pay Later services such as ClearPay & Klarna.

If you prefer to pay on the spot, we also accept all major credit cards, including AMEX, Mastercard, and VISA. With so many options to choose from, you can shop with confidence and convenience.
OxyShred
Achieve your goals with this scientifically researched shredding formula containing proven ingredients that help promote fat loss, boost immunity and provide a natural energy boost. Oxyshred Ultra Concentration comes in delicious flavours for all tastes, and ticks all the boxes for those wanting to shred and reach their full potential!
Read more
Buy Now, Pay Later Options
4 Interest-free Payments
Pay every 2 weeks
4 Interest-free Payments
Pay every 2 weeks