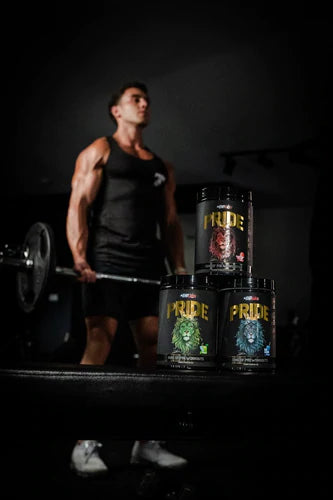 Back to blog
Why Use a Pre-Workout?
A pre-workout is one of the essential supplements you should have in your arsenal. They provide an increase in energy, increased strength, better mental focus, more aggression, a better pump, and more productive workouts.
A pre-workout is one of the essential supplements you should have in your arsenal. They provide an increase in energy, increased strength, better mental focus, more aggression, a better pump, and more productive workouts.
For those days when you have a huge session, or you're lacking the energy or motivation, pre-workouts are a goldmine that will help you achieve your goals.   
WHY USE A PRE-WORKOUT?


Workout Harder
Workout Longer
Better Mental Focus
Better Muscle Pump
Faster Recovery 
Industry first
PRIDE
 is a high quality pre-workouts that allow you to work harder by increasing your energy and motivation, reducing fatigue, faster recovery, and also give you a great pump.
Our newest pre-workout PRIDE puts this all into the picture and MORE with ingredients for recovery AND nootropics! The combination of ingredients has been scientifically selected to work synergistically to boost energy and performance. 
PRIDE is EHPlabs newest member of the pre workout family! With an industry first energy & endurance blend Pentaffeine 5-stage energy release meaning you won't see an energy crash like other pre-workouts can have! PRIDE also includes EAA's, nootropics AND a pump/vaso blend for python like veins!
WHEN TO TAKE A PRE WORKOUT?
All of our pre-workout products are designed to be taken 20 minutes before a workout or 20 minutes before you're requiring an energy boost!
HOW MUCH PRE-WORKOUT TO TAKE?
There is a significant difference between the ingredients of our pre-workouts as they have a different purpose and contribute in a different way to enhancing your performance.
PRIDE - Mix 1 scoop with 6 oz (180ml) of cold water, or 2 scoops with 12 oz (350ml) of cold water in a shaker and consume immediately. DO NOT exceed 2 scoops per day due to the high caffeine content. PRIDE is best taken in the morning or during the day to reduce any impact it might have on your sleep.

WHAT'S IN PRE-WORKOUTS?
PRIDE incorporates a unique blend of ingredients to ensure you will conquer even the most gruelling of workouts. Including Pentaffeine to fuel your workouts with clean energy, an essential amino acid blend (an industry first!) to assist with endurance and recovery, pump ingredients without the jitters, and a nootropic blend to heighten your focus!
WILL I CRASH AFTER USING A PRE-WORKOUT?
PRIDE contains 550mg of Pentaffeine complex which allows for clean energy with a progressive 5-stage caffeine release process. This means no crash will be experienced! RP Max Pre-workout should not cause any post workout crash as it focuses on stimulating the CNS and reducing the blood brain barrier to improve focus and cognitive ability. There is also a limited amount of caffeine, dosed to ensure that you do not burn out your adrenal glands and release excessive cortisol (stress hormone which causes post workout crashes).  
STACKING
PRIDE or RP Max are stimulatory pre-workouts and can be stacked with PSI as it is a non-stimulatory pre-workout. PSI is stack safe and can be stacked with all EHPlabs products including PRIDE, RP Max, OxyShred and BEYOND. 
FAQ'S  - PRIDE 
What makes PRIDE different to RP Max, PSI and OxyShred Hardcore?
PRIDE is different to RP Max as it doesn't contain Beta Alanine, an ingredient that can cause the tingles but it still contains all those pump inducing ingredients! PRIDE also contains a slightly higher dosage of caffeine and more forms of caffeine containing ingredients that allow for a cleaner energy boost and no harsh come down. Unlike RP Max it doesn't contain any B vitamins.
This makes PRIDE perfect to use alongside Oxywhey or Oxyshred non-stim without having to worry about doubling up on your B vitamins! PRIDE contains caffeine whereas PSI is your non-stim version. This makes PSI good for use at night or if you don't tolerate caffeine well. If you workout morning and night we'd recommend PRIDE in the morning then PSI at night if you're needing a bit of a boost! While PRIDE and OxyShred Hardcore may be similar in caffeine content.
OxyShred Hardcore is more suited for those with fat loss being their main goal! PRIDE differs to OxyShred Hardcore by giving you the ultimate PUMP, higher doses of nootropics for increased focus, concentration and coordination. PRIDE also offers assistance for enhanced recovery, endurance and prevention of muscle breakdown with the potent EAA blend.
What makes PRIDE so unique?
Been looking for a pre-workout that ticks all the right boxes? PRIDE not only says this it actually delivers the results! With PRIDE you'll get clean sustained energy with our 5-stage caffeine release process, pumps without tingles, super nootropics for a razor focused mind to improve your performance, and even an industry-first, research-backed addition of EAA's to assist with recovery, endurance and delayed fatigue.
We want our pre-workout as hard as we do and PRIDE does exactly that! PRIDE has been formulated to ensure that the ingredients work synergistically together not just thrown in at random to look good on the label. 
Is PRIDE suitable for me?
PRIDE is for those who enjoy caffeine helping to fuel their workout. With the ability to choose your dose of 20 serves or 40 serves container this allows you to control how high powered your workout will be! 
PRIDE helps to fuel a workout of any kind and can be used by advanced athletes, usual gym goer or home trainer alike! PRIDE can even be used by students or office workers needing to sharpen their mind assisting with memory retention, focus and caffeine for energy. 
PRIDE is vegan friendly, gluten free and contains natural colors and flavors.
 Have all the info you need? Get Your Pre-Workout here!