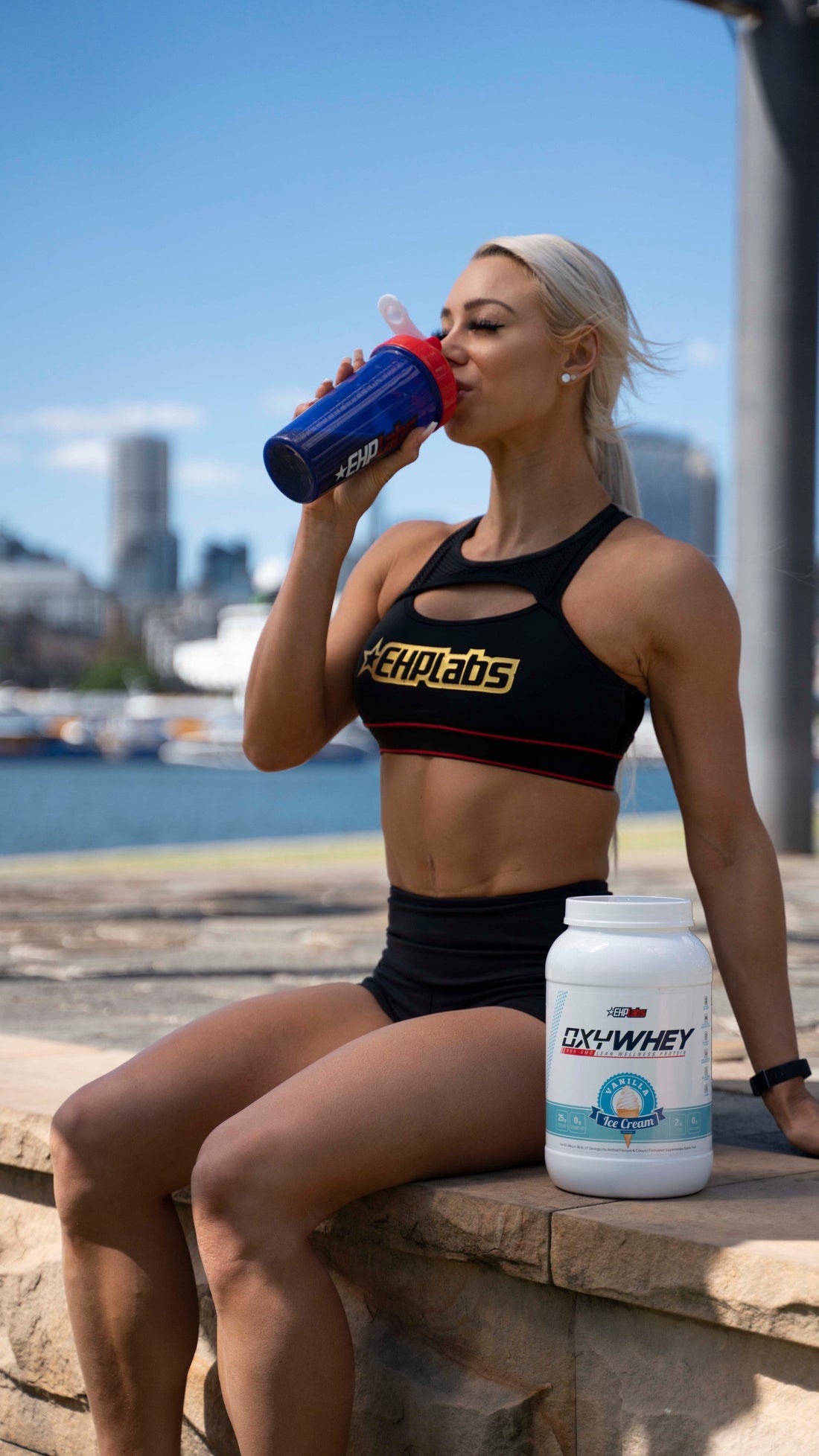 Back to blog
Why OxyWhey is different to regular whey protein?
So you've just started training at the gym? Or maybe you're a seasoned pro wanting to switch up your protein powder? Or you may be just looking for a protein powder to help you hit your protein target? EHPlabs premium lean wellness protein Oxywhey may just be exactly what you're looking for!
What makes Oxywhey so special?
Oxywhey is a PREMIUM protein source
Oxywhey contains 25 grams of premium quality whey protein. Coming from a blend of whey protein isolate and whey protein concentrate, Oxywhey is the perfect protein to consume post-workout or included in a meal, snack or cooking. Oxywhey contains an optimal ratio of branched chain amino acids and an impressive amino acid profile.
Suitable for any goal!
Whether your goal is muscle gain, fat loss or even maintenance Oxywhey can suit your needs. It can be used as a meal replacement if fat loss is your goal, had as a snack if you just want to hit your protein target and are maintaining your physique. Or if you're wanting to gain muscle Oxywhey can be had as a protein source in an extra meal or after your training!
Macro Friendly
At just 130 calories per serving, Oxywhey is easy to fit into your macros! Oxywhey contains 25 grams of quality protein (an optimal dosage post workout), only 2 grams of carbohydrates and just 1.5 grams of fat. Enjoy Oxywhey at any time of the day to increase your protein intake or during the anabolic window after a gruelling workout.
Appetite and craving support
If you have a little trouble sticking to a diet or feel like your sugar cravings are getting the better of you, then look no further than OxyWhey. Containing the mineral Chromium, this nutrient can help with appetite control, reducing sugar cravings and help with balancing blood sugar levels. Lactobacillus Rhamnosus is also included in the formula to help with regulation of hunger hormones and may assist you reaching your fat loss goals faster!
Digestive support: No bloating, No gas, No discomfort.
How many protein powders have you tried that left you feeling sluggish, bloated, gassy and in general just yuck? Not Oxywhey! With added digestive enzymes to help your body to break down and digest, leaving you feeling light and comfortable. What's different about this protein powder is that it also contains a probiotic in the form of Lactobacillus Rhamnosus which has been studied to show benefit in promoting gut health and digestion, improving immunity and reducing inflammation.
Added energy and vitality
With energy support from B vitamins to assist with energy production, vitality and proper digestion of nutrients, Oxywhey is a true wellness protein. Oxywhey also contains an alkalising blend of vitamins and minerals to assist with offsetting acidity in the body helping to keep you feeling healthy.
Immune support
Immune support is something on everybody's minds right now, and why not knock out two goals with one product! Get your protein intake and immune support from Oxywhey with an added 1 billion CFU of Lactobacillus Rhamnosus; a probiotic widely studied for gut health and immunity. Vitamin C is also contained in the formula as an antioxidant nutrient to assist with combatting free radicals, and reducing the severity and length of cold and flu.
Great taste and texture
With a variety of mouth watering flavors and a silky smooth texture. There's a flavor to suit any preference or mood!
What it DOESN'T contain
Oxywhey lean wellness protein contains no fillers, banned substances, artificial flavors or colors, aspartame or acesulfame potassium. We've added in all the good stuff and kept out all the nasties! Oxywhey is independent 3rd party tested and verified by Dyad Labs so you can ensure that what we say is in the product is actually there. Honesty is the best policy y'all. You can feel confident in knowing that this product not only tastes good but is also good for you!
Whatever your goal is, Oxywhey can help get you there! With so many benefits beyond a regular protein powder there is SO much to love about Oxywhey.