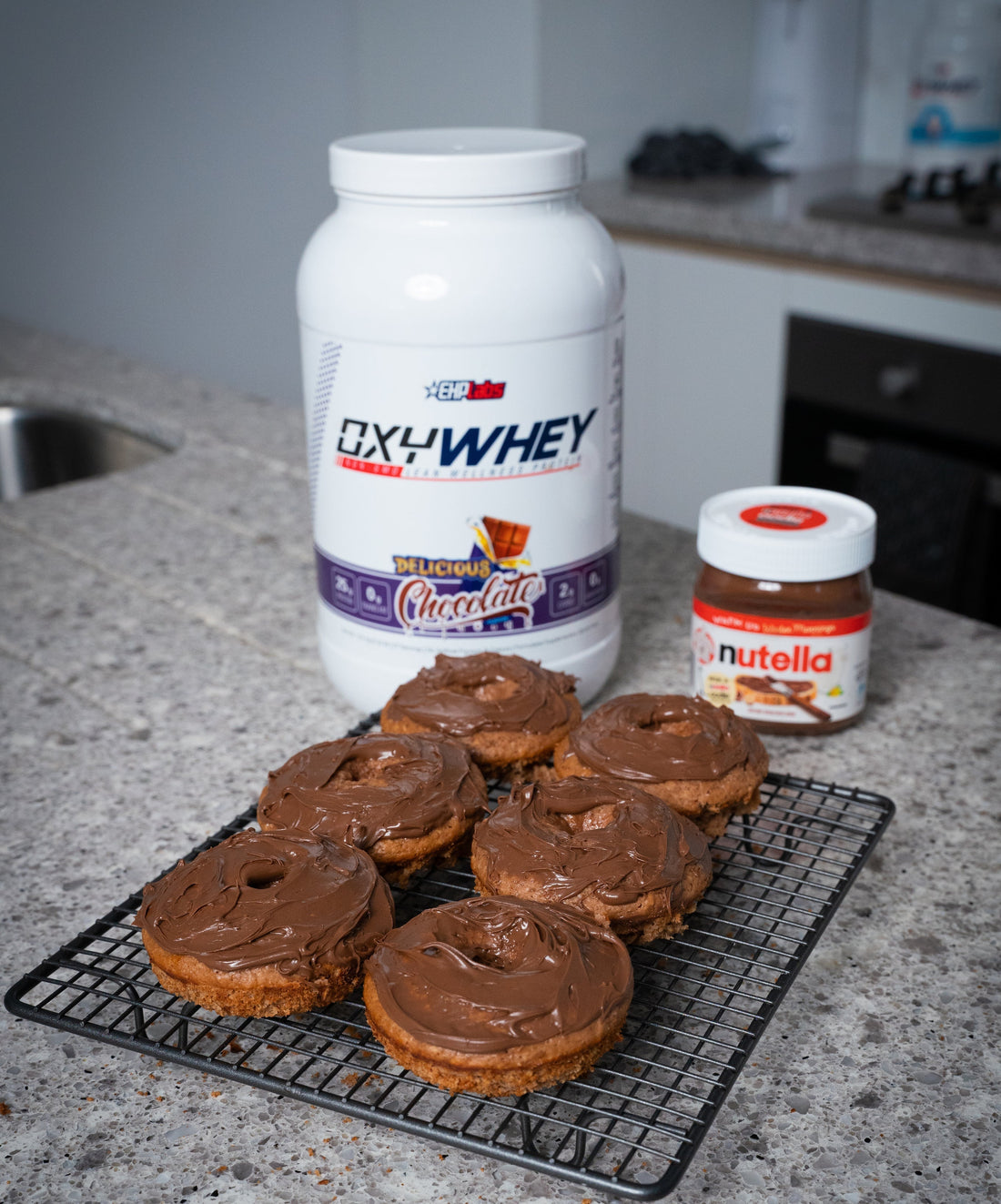 Sweet Chilli Chicken & Cheese Burger
1. Preheat air fryer (or oven) to 220C (430F) and line a tray with baking paper.
2. Mix breadcrumbs with garlic and onion powder. Season with salt (optional).
3. Coat chicken breast in sweet chilli sauce and breadcrumb mixture.
4. Lightly spray chicken with olive oil and air fry (or bake) for 15-20 minutes or until lightly golden brown.
5. Slice tomato. Mix mayonnaise and sour cream together.
6. Spread one side of the burger bun with mayo mixture and top with lettuce, tomato, cooked chicken and cheese. Top with second half of burger bun and enjoy!
Oreo Strawberry Cheesecake
1. Mix yogurt, cream cheese, one crushed oreo and protein powder together in a bowl.
2. Slice strawberries and place around the bottom of a bowl or small jar.
3. Transfer yogurt mixture into the jar. Top with crushed oreos and chocolate syrup.
Nutella Donuts
1. Pre-heat the oven to 180C (350F).
2. Melt butter in the microwave.
3. Mix melted butter, almond milk, yogurt and apple sauce together. Add flour and protein powder. Continue to mix all ingredients until well combined.
4. Pour into a silicone or line donut tray and bake for 8-10 minutes until the donuts have risen.
5. Allow the donuts to cool before spreading with Nutella
Bacon, Egg & Avocado Bagel
1. Heat a non-stick pan over medium heat.
2. Cook bacon and egg. Slice and toast bagel.
3. Spread one slice of bagel with avocado, bacon, egg and barbecue sauce. Top with second bagel slice and enjoy!
Mexican Loaded Wedges
1. Preheat oven to 220C (430F).
2. Slice potato into wedges, lightly spray with olive oil and season with salt. Bake (or air fry) for 15-20 minutes until lightly golden.
3. Heat a non-stick pan over medium heat and cook ground beef and black beans in taco seasoning. Add tomato sauce and continue to cook until the mince is fully cooked.
4. To make the guacamole, mix diced tomato, red onion and avocado together. Season with salt and pepper and set aside.
5. Once the chips are baked, top with Mexican beef mixture, cheese, lettuce, guacamole, cilantro and sour cream. Serve!