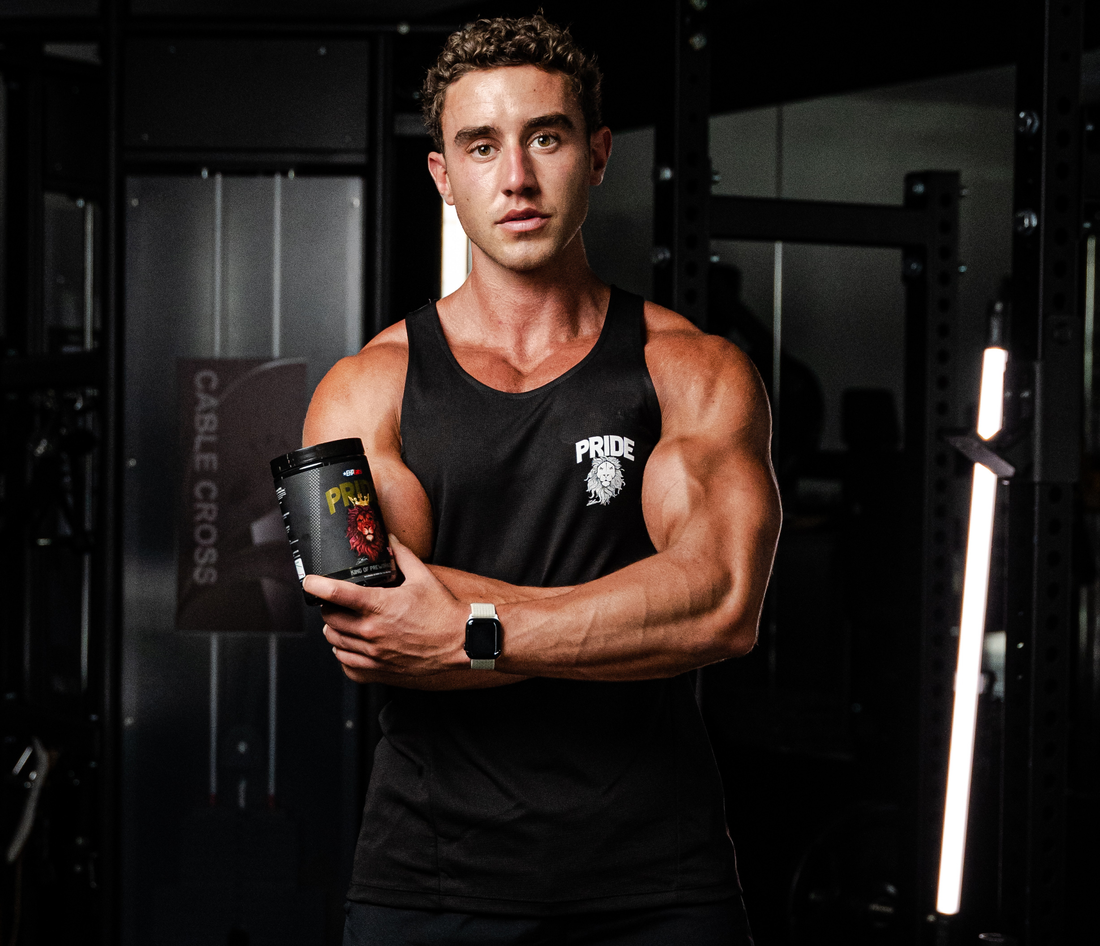 Back to blog
PRIDE: King of PreWorkouts
Get your hands on PRIDE! Our newest pre-workout to join the EHPlabs family. PRIDE is the king of all pre-workouts for a reason. Get ready for your best workout yet with improved performance, clean energy, sharp focus and insane pumps! 
Get your hands on PRIDE! Our newest pre-workout to join the EHPlabs family!
Get ready for your best workout yet with improved performance, clean energy, sharp focus and insane pumps! We named this killer pre-workout PRIDE because we love what it means: "A family of lions", and we all know lion's are the KING of the animal kingdom!
We've formulated this product in conjunction with the one and only Zac Perna! This product is a no nonsense pre-workout, containing no unnecessary ingredients. What does this mean? With PRIDE there won't be a caffeine come down or tingles!
What makes PRIDE so good?
We created PRIDE for beasts like us. We train hard, but we're always hungry for more. We expect results because we work for it, and we demand more from our pre-workout. No jitters! Just performance, clean energy, focus and pumps!
PRIDE incorporates a unique blend of ingredients to ensure you will conquer even the most gruelling of workouts. Including Pentaffeine to fuel your workouts with clean energy, an essential amino acid blend (an industry first!) to assist with endurance and recovery, pump ingredients without the jitters, and a nootropic blend to heighten your focus!
What are the superstar ingredients in PRIDE and how does it work?
Energy and Endurance Blend (280g Caffeine)
Pentaffeine 5-Stage Energy Release
550mg of Pentaffeine allows for clean energy with a progressive 5-stage caffeine release process. Including caffeine anhydrous, infinergy, yerba mate, green coffee extract and green tea extract. Incorporating different caffeine containing ingredients which absorb at different rates allows you to ditch the caffeine crash seen with other pre-workouts! PRIDE will give you a solid dose of caffeine with 280mg per serving to give you the boost you need!
Helps to increase metabolic rate and works synergistically with caffeine to stimulate the central nervous system (CNS), essentially making the caffeine more effective. It also has benefits for increasing performance as it allows more blood and oxygen being transported around the body.
Essential Amino Acid Blend (5g EAAs)
An industry first in a pre-workout! We want your pre-workout to help prevent muscle breakdown, and improve endurance and recovery. Who said a pre-workout can't do it all? PRIDE CAN!
With 5g of EAAs including methionine to help metabolize fat, lysine to assist with the release of your growth hormones, tryptophan for mood boosting benefits, threonine for improved muscle strength and contractions, phenylalanine for improved pain tolerance and rate of perceived exertion and histidine to help offset lactic acid build up in your muscles!
Branched Chain Amino Acids
PRIDE contains BCAAs leucine, isoleucine and valine in the correct 2:1:1 ratio! BCAAs help to transport oxygen and increase endurance, while also assisting with recovery by helping to prevent muscle breakdown!
Pump / Vaso Blend (7.5g of actives)
We've used the newest technology and research to bring to you a pre-workout that delivers INSANE pumps without the tingles or jitters! Get ready for skin-splitting, off the bone PUMPS and 'python' veins!
1.5 grams of Nitrosigine IHS per serving helps to boost nitric oxide improving vasodilation and blood flow to muscles. An added bonus is that you don't build up a tolerance to this ingredient! It can also help improve recovery and markers of muscle damage due to exercise.
A whopping 5 grams per serving of L-Citrulline assists with helping you get an awesome pump due to improving blood flow and vasodilation. Your selfie game will be stronggg!
We've included 1 gram per serving of Betaine Anhydrous as it helps the body adapt to stressors such as training while also increasing blood flow to muscles.
Super Nootropic Blend (1650mg of actives)
We all know of the importance of the mind muscle connection and PRIDE does not forget this! Nootropics have been included in this product to give your brain the ultimate BOOST! If you're wanting to sharpen your mind while having the best workout of your life then PRIDE is the pre-workout for you!
500mg per serving of Taurine have been included to help boost your energy, mood and metabolism while improving exercise performance! What's not to love?
Feel your mood improve with 1g of Tyrosine per serving! Tyrosine can also assist with alertness and attention which can be important while lifting heavy.
Get ready to focus better than ever with 100mg of Phosphatidylserine in each serving of PRIDE! This ingredient has shown to have memory and cognition benefits AND can also be beneficial in helping to reduce muscle soreness!
Have you ever wondered why chocolate can not only taste so good but make you feel good too? Look no further than Theobromine, one of the properties in chocolate responsible for that good mood feeling! PRIDE has 50mg of Theobromine per serving which not only has mood boosting benefits but also improves cognition and energy!
What makes PRIDE different to RP Max, PSI and OxyShred Hardcore?
PRIDE is different to RP Max as it doesn't contain Beta Alanine, an ingredient that can cause the tingles but it still contains all those pump inducing ingredients! PRIDE also contains a slightly higher dosage of caffeine and more forms of caffeine containing ingredients that allow for a cleaner energy boost and no harsh come down. Unlike RP Max it doesn't contain any B vitamins. This makes PRIDE perfect to use alongside Oxywhey or Oxyshred non-stim without having to worry about doubling up on your B vitamins!
PRIDE contains caffeine whereas PSI is your non-stim version. This makes PSI good for use at night or if you don't tolerate caffeine well. If you workout morning and night we'd recommend PRIDE in the morning then PSI at night if you're needing a bit of a boost!
While PRIDE and OxyShred Hardcore may be similar in caffeine content. OxyShred Hardcore is more suited for those with fat loss being their main goal! PRIDE differs to OxyShred Hardcore by giving you the ultimate PUMP, higher doses of nootropics for increased focus, concentration and coordination. PRIDE also offers assistance for enhanced recovery, endurance and prevention of muscle breakdown with the potent EAA blend.
What makes PRIDE the best on the market?
Been looking for a pre-workout that ticks all the right boxes? PRIDE not only says this it actually delivers the results! With PRIDE you'll get clean sustained energy with our 5-stage caffeine release process, pumps without tingles, super nootropics for a razor focused mind to improve your performance, and even an industry-first, research-backed addition of EAA's to assist with recovery, endurance and delayed fatigue. We want our pre-workout as hard as we do and PRIDE does exactly that! PRIDE has been formulated to ensure that the ingredients work synergistically together not just thrown in at random to look good on the label.
Is PRIDE suitable for me?
PRIDE is for those who enjoy caffeine helping to fuel their workout. With the ability to choose your dose of 20 serves or 40 serves container this allows you to control how high powered your workout will be!
PRIDE helps to fuel a workout of any kind and can be used by advanced athletes, usual gym goer or home trainer alike! PRIDE can even be used by students or office workers needing to sharpen their mind assisting with memory retention, focus and caffeine for energy.
PRIDE is vegan friendly, gluten free and contains natural colors and flavors.

When is the best time to take PRIDE?
PRIDE is best taken 20-30 minutes before a workout on an empty stomach. It's safe to take 2 scoops however 1 scoop is also effective. PRIDE is best taken in the morning or early afternoon to ensure you'll sleep soundly at night! If you love to train at night give Oxyshred non-stim or PSI a go!
Is PRIDE stack safe?
Yes! PRIDE can be stacked with Acetyl L Carnitine or Oxyshred Non-stim for extra fat burning abilities, sip on PRIDE with Beyond BCAA or have Beyond BCAA during your workout to assist with recovery, or if you're wanting extreme pump you can stack PRIDE with PSI. The opportunities are endless!
PRIDE Flavors
A smooth blend of raspberries, blackberries and freshly ripened strawberries that delivers the zing of a blue slushie cut with the sweetness of strawberries.
Like biting into a delicious, ripe strawberry with a tropical twist.
Taste the sour and sweet combination of fresh green apple with a seriously fruity punch.
So what are you waiting for? Join the Pride. You won't go back.