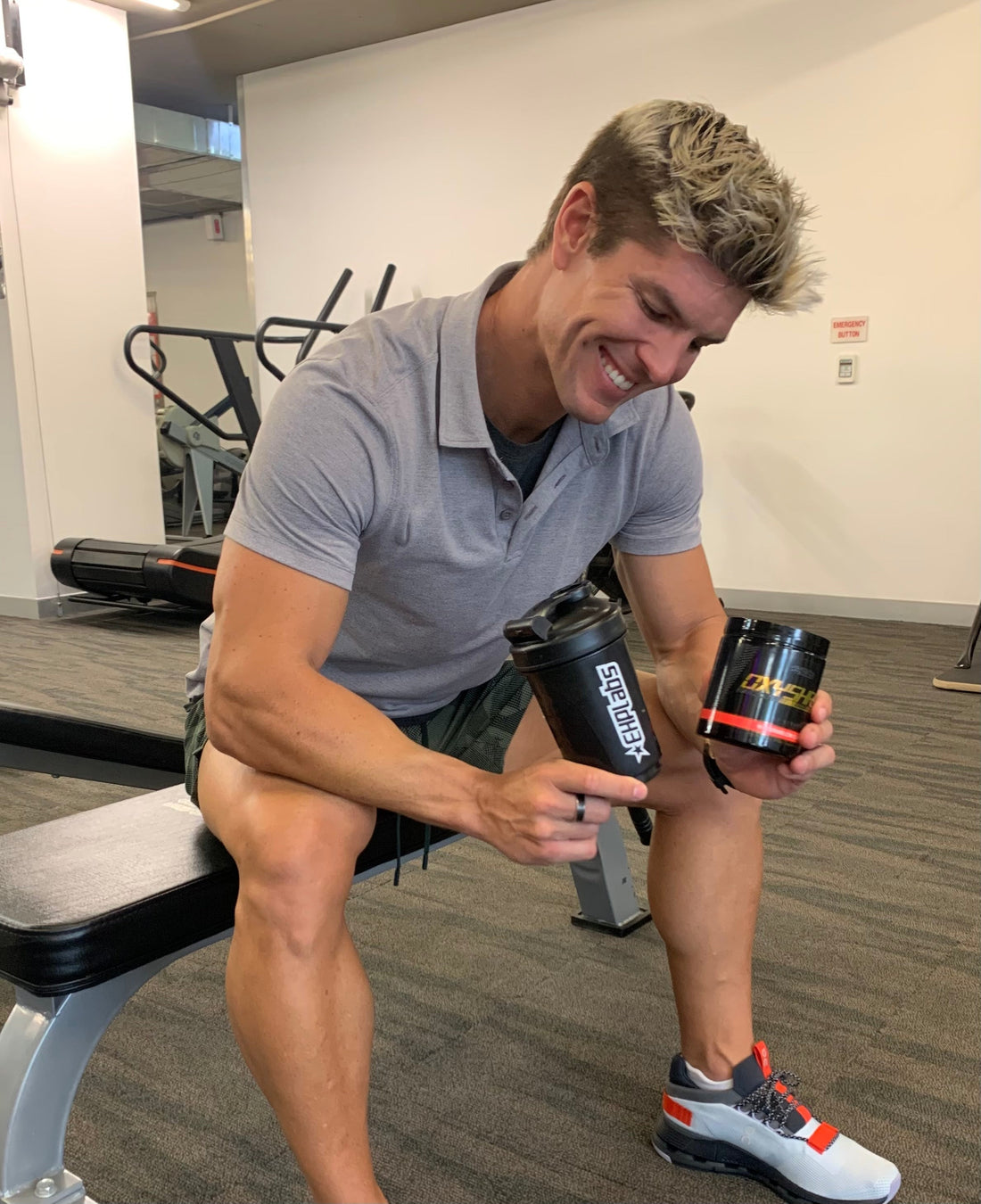 Back to blog
OxyShred OG vs. Hardcore!
Dietician, and EHPlabs athlete, Mark Robinson, explains the differences between OxyShred Original & Hardcore, and how both fit into his fitness routine
Dietician, and EHPlabs athlete, Mark Robinson, explains the differences between OxyShred Original & Hardcore. Read on to find out how OxyShred OG and Hardcore fit into Mark's fitness routine and the unique benefits of both!
The EHPlabs OxyShred range continues to be the leading, most prolific fat burning supplements on the market. There is perhaps no more well known universal supplement than OxyShred. I certainly for as long as I can remember have always used OxyShred, passion fruit being my earliest favorite flavor, and now fast forward the clock some 9 years and we are celebrating the release of the limited edition OxyShred Hardcore Sour Creepy Crawlies. For me, as a Dietitian, the ingredients just make sense! It is in practise exactly what it is in theory...a thermogenic fat burner with sustainable balanced energy provision to help us get the most out of a workout as well as the best results possible. It's based on scientific research and lives up to its 6 benefits, namely:
Promotion of Fat Loss

Increased Performance

Boosted Energy

Strengthened Immunity

Enhanced Mood

Balanced Blood Sugar Levels
It surely makes sense to ask ourselves prior to beginning a training session 'what are we trying to achieve in this workout', in other words, what is the goal we are working on? Or why are we putting ourselves through this 'pain'?
If the answer to any of these is to lose fat, then OxyShred should 100 percent be in your routine!
OxyShred Original or OxyShred Hardcore?
EHPlabs has three types of OxyShred; OxyShred Original, OxyShred Hardcore and OxyShred Non Stim. In this article I am focusing on the differences between OxyShred Original and Hardcore. In essence the name says it all, Hardcore resembles a larger, more potent, exaggerated hit of the 6 benefits aforementioned.
Most noticeably there is a greater caffeine dose of 275mg versus 150mg boosting energy even further though still without affecting blood pressure nor causing any jitters or come down.
Green coffee bean extract and Conjugated Linoleic Acid are present in both and crucially add to the fat burning and energy providing benefits of OxyShred. While the primary fat burning ingredient for both forms of OxyShred is Acetyl L-Carnitine, though in Hardcore we find the additional Glycine Propionyl-L-Carnitine, which further helps mobilise and burn fat cells into energy. Specific to Hardcore is the ingredient Evodiamine, that can increase body temperature acting as a thermogenic, which helps the body burn more calories and thus decrease weight. In addition to this benefit Evodiamine can also actually prevent the body from creating new fat cells, therefore having anti-obesity effects.
The mood enhancement benefits include positive thought processes and improved brain cognition, focus and memory and decreased stress and anxiety. These are mostly thanks to the amino acids L-Tyrosine and Taurine, found in both OxyShred Original and Hardcore.
In addition, the range of B Vitamins promote and support energy levels and also assist in the enhanced brain function.
Hyperzine A is included specifically in Hardcore to support increased strength and performance.
The amino acid, L-Glutamine is also added to Hardcore, which promotes muscle recovery and strengthens immunity.
OxyShred Hardcore is a supercharged OxyShred with a more potent combination of stimulants for the individual who trains at a hardcore level and wants hardcore results fast! Best taken first thing in the morning on an empty stomach for maximum fat burning results, as the Acetyl L-Carnitine breaks down and transports fat from stubborn areas to muscles for energy release most efficiently in a fasted state. Otherwise, wait and take OxyShred Hardcore 10 minutes before training to maximise your workout intensity and results.
The new limited edition OxyShred Hardcore Sour Creepy Crawlies is sure to be a next level taste explosion, get your hands on it fast.
Mark Robinson,
'Health Man Mark',
Dietitian
Read more about Mark Robinson here