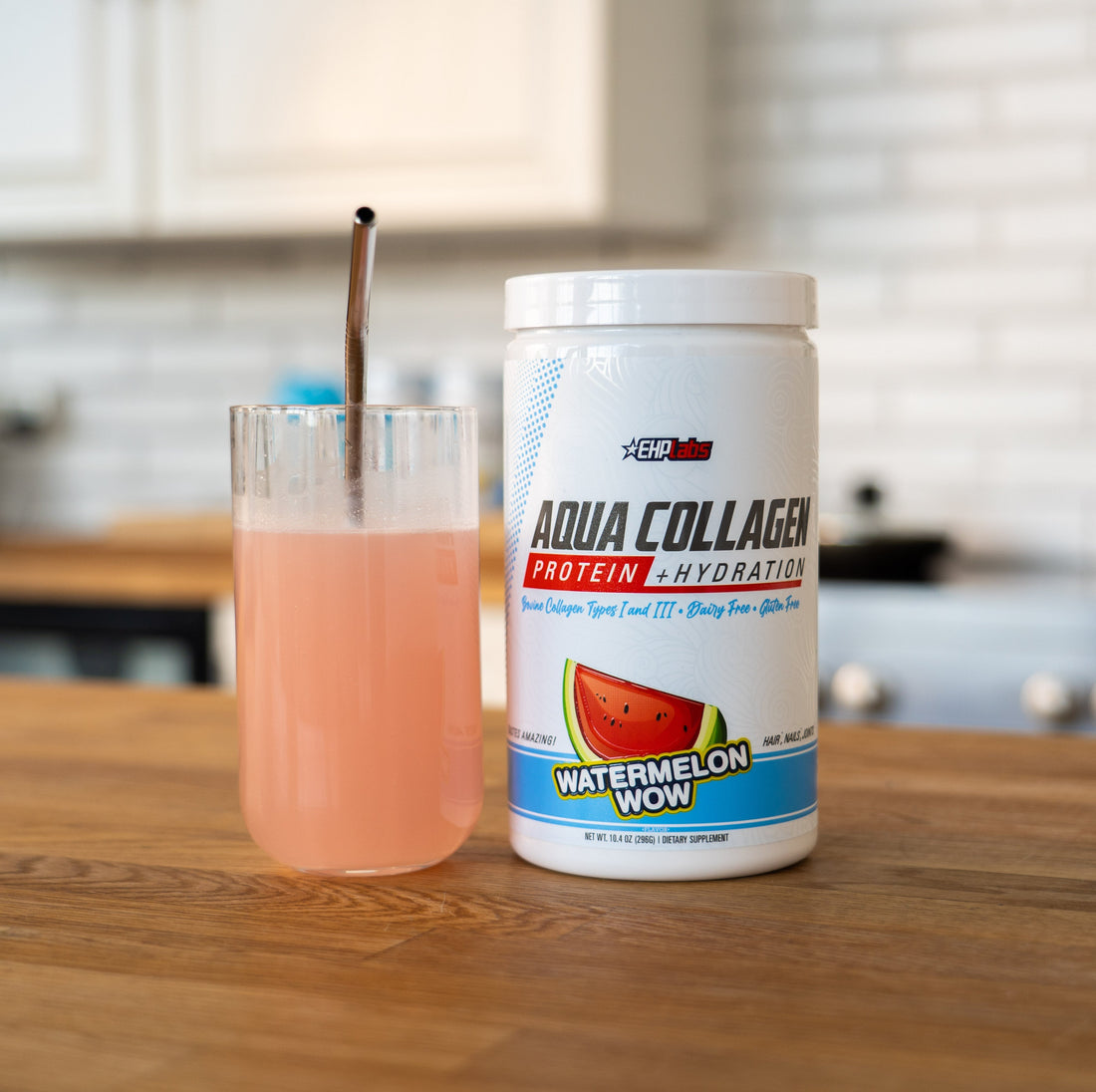 Back to blog
NEW AQUA COLLAGEN!
EHPlabs has recently launched Aqua Collagen to provide you with SUPERIOR hydration and give you the benefits of electrolytes, protein and collagen all in one!
EHPlabs has recently launched Aqua Collagen to provide you with SUPERIOR hydration and give you the benefits of electrolytes, protein and collagen all in one!
Did you know that most people fail to consume the recommended water intake and are chronically dehydrated from not meeting their requirements? Dehydration causes fatigue, headaches, muscle aches and is one of the top ten most common medical diagnoses. In addition, many people struggle to hit their protein targets and find traditional protein powders too heavy. Aqua Collagen is a light and refreshing protein drink you can take at any time of the day, providing you with benefits from coconut water for hydration and hydrolyzed collagen peptides for gut and whole body support. Protein in Aqua Collagen comes from the high dose of bovine collagen, making it an easy to consume source of protein.


What is Aqua Collagen?
Aqua Collagen is a DELICIOUS, light, refreshing fruit flavored PROTEIN drink that is both dairy and gluten free. Aqua Collagen includes Type I and Type III pasture-raised bovine collagen Collagen peptides help to support the health of your whole body including gut, skin, bones, muscles, tendons, ligaments, blood vessels and organs. It also contains natural electrolytes from coconut water, making it easy to keep hydrated throughout the day.
What are the ingredients in Aqua Collagen?
HYDROLYZED COLLAGEN PEPTIDES
Aqua Collagen comprises Type I & Type III collagen peptides. Type I collagen peptides are found mainly in bone, skin and tendons. While Type III collagen peptides are found mainly in blood vessels, organs, skin & joints. Both types of collagen work synergistically together to support overall whole body health.


COCONUT WATER
Each 2 scoop serving contains 1000 mg of coconut water powder. Coconuts contain natural electrolytes including potassium, magnesium, calcium and sodium which can assist with helping the body stay in homeostasis.
What are the benefits of Aqua Collagen?


Optimizes fluid balance within the cells to ensure adequate rehydration.
Boosts protein intake to assist with muscle growth, maintenance and exercise recovery.
Improves gut health
Supports joint, ligament and muscle health.
Stabilizes natural collagen decline to reverse signs of aging and promote skin health.
How do you take Aqua Collagen?
Mix 2 scoops of Aqua Collagen with 150-300ml of water. It comes in 3 freshening fruity flavors, not typically found in traditional protein powders, making it the PERFECT supplement to help you stay hydrated and top up your protein intake between meals. The three flavors of Aqua Collagen include Watermelon Wow, Raspberry Refresh and Fijian Pineapple.
Can you stack with other EHP supplements?
Yes! Depending on your goals, here's what we recommend: Wellness- Oxygreens and Aqua Collagen both have non-overlapping benefits which assist with overall wellness. The key ingredients will assist with your gut health, boost immunity and help make you feel and look amazing from the inside-out! Fat Loss- take Oxyshred in the morning for shredding and Aqua Collagen during the day as a low calorie way to get your protein intake up. Stacking these two supplements is a great way to kick your cravings to the curb and reach your fat loss goals even sooner! Recovery- To optimize your performance, focus and recovery, take Beyond during your workout, followed by Aqua Collagen post workout for added recovery benefits from coconut electrolytes. Total Supplement Stack- Start with Oxyshred first thing in the morning, Beyond during your workout and Aqua Collagen straight after- for the most optimal shredding and recovery benefits! Stay hydrated while keeping up with your protein intake and enjoy all the benefits of collagen.


Grab a tub of Aqua Collagen to experience the benefits for yourself!