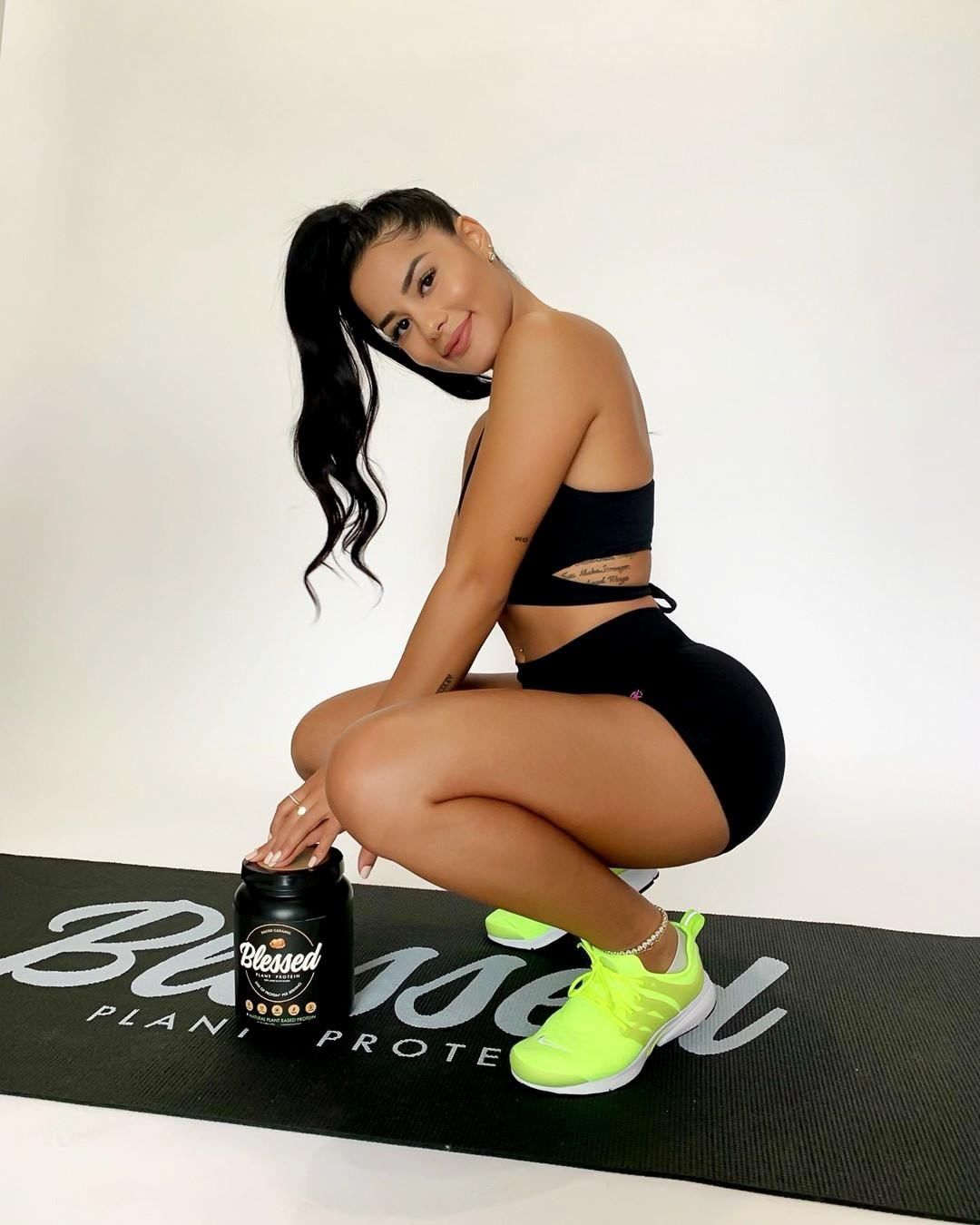 Back to blog
BLESSED PROTEIN FAQS WITH KATYA
Have you been looking for a great tasting plant-based protein? Blessed is your answer!
WHAT IS BLESSED, AND WHAT DOES IT DO?
Have you been looking for a great tasting plant-based protein? Blessed is your answer! How many plant-based protein powders have you tried that are gritty and taste terrible? Blessed is different with its smooth and delicious taste in a variety of flavors!
Blessed Protein helps to support weight loss as it is low GI and low in carbohydrates helping your body to control appetite and cravings. It also has a high satiety, meaning that it helps to make you feel fuller for longer.
Blessed Protein can be used as a meal replacement either by itself or as part of a smoothie. Blessed can also be used in cooking and baking without any effect on protein content or quality!
SPECS
23 grams of high-quality plant-based golden pea protein per 30-gram scoop.
Low calorie with just 120 calories per serve and only 4 grams of carbohydrates and 2 grams of fat.
Well-balanced, smooth flavor without the grit you normally get in a

vegan protein.
Comes in 4 delectable flavors: Salted Caramel, Choc Coconut, Vanilla Chai and Strawberry Mylk.
Alkalizing with a pH of 7.8 to help improve recovery and energy.
Soy-free, nut-free, dairy-free, lactose-free, vegan, and ultra-gentle on the digestive system.
Made from organic and sustainably derived sources. Even the tub is made from recycled materials!
HOW DO YOU USE BLESSED?
Mix 1 scoop with 240ml (6-8oz) of chilled water or almond milk in a shaker bottle. You can also blend it into a shake with other ingredients of your choice! You can even try Blessed Protein heated up as a heart-warming hot drink. You can add hot water or milk to Choc Coconut (or even add Salted Caramel to add a Spanish hot choc flavor twist) or Vanilla Chai, then curl up on the couch to sip and enjoy!
IF I USE BLESSED PROTEIN IN BAKING AND COOKING WILL IT AFFECT THE PROTEIN CONTENT OR ABSORPTION OF THE AMINO ACIDS?
No, Blessed Protein can be used in baking and cooking, without affecting the protein content or quality of the absorption. This means it can be used to improve the protein content in snacks and meals, such as waffles, pancakes, oats and even raw and baked treats such as brownies! YUM!
WHO SHOULD USE BLESSED?
Anyone, male or female can use Blessed, no matter their goal or training and lifestyle demands. Blessed Protein is used by people from all walks of life such as bodybuilders, athletes, moms, students, you don't have to be plant-based to enjoy this beautiful product.
Whether you are an athlete looking to up your protein intake in an efficient and high-quality way, or if you're looking to tone up and want a delicious and nutritious meal replacement shake, Blessed can fulfill your needs. It is also great to add to the nutrient value of your snacks, such as smoothies, shakes, and even sweet treats like protein balls and slices. Blessed is also the perfect pre or post-workout shake to ensure your body is optimally fuelled for your session and that the growth and repair process is kick-started as soon as you leave the gym.
IS IT VEGAN? IS BLESSED PROTEIN MANUFACTURED ON A VEGAN DEDICATED PRODUCTION LINE?
Yes, Blessed Protein is vegan-friendly and manufactured on its own dedicated production line in our state of the art manufacturing facility, ensuring it doesn't come into contact with any animal or dairy products. Each batch is HPLC, UPLC (Ultra Performance Liquid Chromatography) and LCMS tested to ensure the purity of ingredients and the absence of contaminants.
HOW IS IT FLAVORED?
Blessed Protein is flavored using 100% natural stevia sweeteners and cutting-edge natural flavor technology, so it is both insanely yummy and good for you!
HOW DOES THE PROTEIN CONTENT AND QUALITY COMPARE TO WHEY, DON'T PLANT PROTEINS HAVE AN INFERIOR AMINO ACID PROFILE?
Blessed Protein is made from the Golden Yellow Pea which provides all of the essential amino acids the body requires to build muscle and function optimally, this means it is just as high-quality as whey protein. Pea protein is also alkalizing in your body, whereas, whey protein is acidic with the potential to inflammatory.
CAN I TAKE BLESSED PROTEIN IF I AM ALSO PREGNANT/BREASTFEEDING?
Yes, as Blessed Protein is a natural pea protein isolate (a food), with only natural flavors and sweeteners. Blessed is a phyto-nutrient providing complete protein as nature intended. We recommend you speak with your doctor to discuss your individual requirements.
CAN CHILDREN OR BABIES TAKE BLESSED PROTEIN?
Children from 12 years of age can take half the usual adult dose. (one heaped tablespoon, 1-2 times per day). Children under the age of 12 should seek recommendations from a healthcare professional, so they can assess individual needs.
WHY YOU NEED BLESSED?
Whatever your goal or preference, Blessed Protein is worth checking out and adding as a pantry or gym bag staple. It has all of the pros you expect from whey protein, comes in 4 delicious flavors and caters to those that may have allergies, intolerances, digestive challenges or just want to be a more conscious consumer. Grab a tub today to see how you can live a life that just a little more #Blessed!
Try Blessed today!